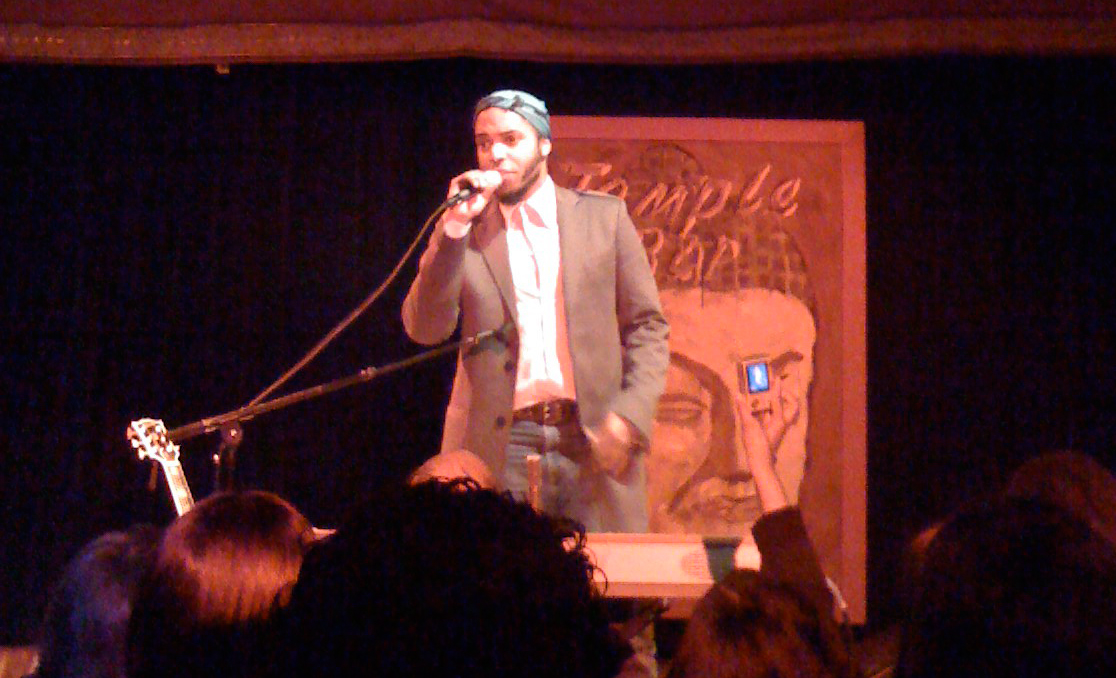 You know what I like? Live music.
There was a time in my life when I used to go to at least one concert a month. I don't the opportunity to do that too often these days but when I heard that
Van Hunt
was performing at the
Temple Bar
in Santa Monica this weekend, I made a point to make it on down and check him out.
If you haven't heard of Van Hunt, don't worry, you are far from being alone. Sure, he's a
Grammy winner
and all but really, he's not all that popular. And since he recently
got dropped from his label
, I don't expect him to get more popular any time soon.
But.
That doesn't make him any less talented and he really is a gifted artist. It turned out that his gig at the Temple Bar was actually Van's first ever solo acoustic performance. Truth be told, had I known that, I probably wouldn't have gone. As much as I like Van, I'm not really into his slower R&B stuff, preferring his more funky stuff. Check out my podcast
the many moods of larrydigital
,
Episode 1: Fever in the Funkhouse
for a sample of what I'm talking about.
Despite not really being a fan of his more soulful stuff, I thought Van put on a really good show. He played a nice mix of stuff and he really interacted with the crowd well, which was a plus. It was a pretty small venue, as you may or may not be able to tell from the picture above, I was only about 20 feet from the stage.
What really struck me about the show was its totally diverse crowd. Whether it was the older Korean ladies in line (the short one called the tall one
unni
) or the middle aged white woman reminiscing about her days as a Soul Train dancer or the bespectaled Mexican guy with his pregnant Filipino wife, we were all there for the same thing. Regardless of who we were or where we were from, we were all there to enjoy a fun show and great music from Van Hunt.
His opening act, a woman named Chrissy DePaul, wasn't as entertaining. Don't get me wrong, she had a nice singing voice. Her lyrics on the other hand, left a lot to be desired. And bland lyrics from a solo singer-songwriter is never a good thing. She bore a striking resemblance to
Shannon from Lost
and apparently, her day job is busking at the San Monica Promenade. At one point she mentioned that she wrote her following number while "performing" at the Promenade. The lyrics went like this...
I'm standing on the corner with a guitar in my hand
. Hmmm, ok. Another song, about a beautiful person in her life...
You're more beautiful than the most beautiful thing I've ever seen
. Ugh. A third, this one about how you can't make someone love you...
You can't make someone love you, you can't make someone love you
, repeated 20 times. Booooring. Don't get me wrong, I admire Chrissy for having the courage to get on stage and perform but for me, this was just another example of why I never go to a concert for the opening act. Except, of course, for that time in 1994 when I went to the Santa Monica Civic Auditorium to see Rage Against the Machine open for House of Pain.
Van Hunt performs at the Temple Bar next on February 19 and again on March 6. If you're a fan of soul, R&B or just plain good music, you should do yourself a favor and check him out.